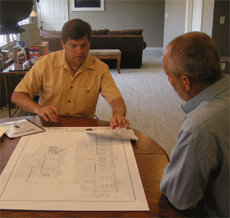 Customers are impressed with the personal attention they receive from Nazareth. From the first meeting, through the construction process, and to the closing table, they deal directly with Kerry Wagoner.
Regardless of the scope of project, Nazareth provides complete services including: initial planning, estimating, design, hiring sub-contractors, selecting and ordering materials, scheduling, coordinating meetings, and closely monitoring each phase of construction.
"We won't accept what's not acceptable – there's simply no compromise. Every client must be completely satisfied with our work," Kerry declares..